EAGLE
VERTICAL TAKE-OFF AND LANDING RESCUE AND MAINTENANCE AERIAL PLATFORMS
DM AeroPlatforms Ltd. a new private company is established by Dr. David Metreveli for a further development and management of his new High-Rise Rescue and Maintenance Technology via VTOL Flying Platforms. (Click on images to go to our new site).
Dr. David Metreveli has developed a totally new high-rise rescue technology to retrieve trapped people from areas which cannot be reached by conventional aerial ladder, conventional helicopter or a helicopter equipped with a Heli-Basket in a case of different natural or man-made disasters.



OTHER POSSIBLE APPLICATIONS

This technology could give rise to a new class of air transportation means, used for safe close-in maneuvering around tall structures, even inside the highly populated areas.

The following is a list of possible applications (other than high-rise rescue mission) for proposed multipurpose VTOL platforms.


Municipal Services:

- High-rise Aerial Rescue;
- Aerial ambulance ;
- Real-time video imaging for monitoring of bridges, skyscrapers, television tower constructions, smokestacks and other high-rise structure sites;
- Monitoring and surveillance: traffic, chase and other.


Commercial Services:

- High-rise buildings washing, cleaning and painting;
- Powerlines construction, patrol and service;
- Aerial Construction;
- Equipment and materials aerial moving;
- Rooftop placement;
- Forestry and logging;
- Personal air transportation means;
- Sky diving.

Special and Military Services:

- Special anti-terrorist operations
- Water rescue operations (Offshore Drilling Platform fires, floods, ship sinking);
- Mountain rescue operations (skiers, alpinists and etc. search and rescue);
- Various military applications, including different military payloads and troops transportation operations;
- Armor protected version for troop carrying missions into and out of confined battle zones, where physical constraints and various obstructions prevent the use of helicopter.

HIGH - RISE RESCUE MISSION

The proposed EAGLE Vertical Take-off and Landing Aerial Rescue Platform is developed with aim to rescue up to 25 people at a time by approach and direct moor to any level of a high-rise building or structure in the case of a different natural or man-made disasters.

The proposed rescue vehicle can access all narrow canyons, city streets, smokestacks, bridges, television and other tower constructions.

EAGLE can also be equipped with floats for a different water rescue operations.




Most High-Rise Buildings or structures in North America have no roof access. And most helicopters have no a Rescue Hoist. Besides these facts, helicopter rescue is not feasible during many High-Rise fires because of flames, smoke or roof obstructions.


Parked cars can often make it difficult or impossible for the Aerial Ladder to reach the building.

EAGLE AERIAL RESCUE PLATFORM's PERFORMANCE SUMMARY

Dimensions:

Length - 42 feet (12.8 m)
Width - 42 feet (12.8 m)
Height - 16 feet (4.8 m)


Weights:

Max. Gross weight - 5000 pounds (2268 kg)
Payload (Crew of two plus 10 rescued people) - about 2000 pounds (about 900 kg)


Propulsion System:

Four (4) variable collective pitch Ducted Propellers
Propeller Diameter - 7.8 feet ( 2.4 m)
Engines - four (4) four-cylinder radial piston aero engines with forced air cooling system 250 hp each (1000 hp total)


Performance:

Max. Duration - about 5 hours without refueling
Max. Airspeed - 40 knots (75 km/h)
Max. operating altitude - about 7000 feet (about 2200 m)

Go to our new site
PRESENTATION CD WITH LATEST UPDATE ON EAGLE PROJECT IS AVAILABLE UPON REQUEST.

EAGLET Concept Demonstrator Platform's ground and flight tests program started on March 14, 2004.
DM AeroPlatforms Ltd. new company is established by Dr.David Metreveli for further development and management of the new proposed technology.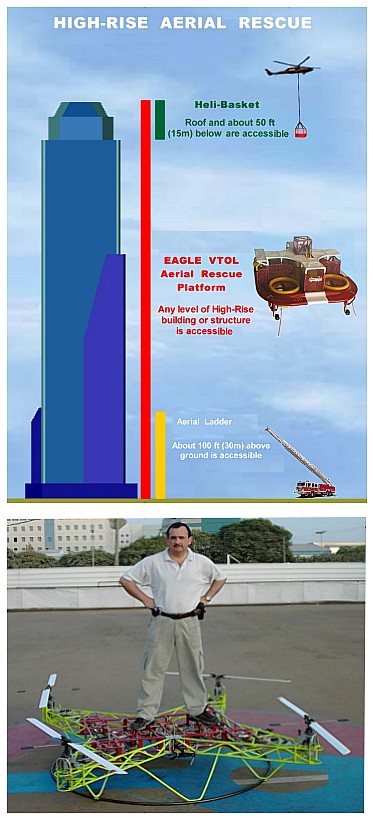 Last Update: November 2006
Go to EAGLET POC Unmanned Platforms Site